Gold standard whey
19th August,2015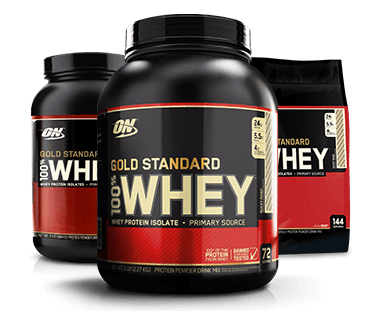 ON 100% Whey truly is the gold standard in whey protein. As the first company to mass-market a protein powder that contains higher-quality whey isolate as the first ingredient, they succeeded in bringing great protein to the masses. In doing this, they also helped lower the fat and carb content.
Double-rich chocolate is the standard, and has always been the best seller. So if you want "ol' reliable", then go with that flavor.
However, we've found two other flavors that we prefer much more: extreme milk chocolate and chocolate peanut butter.
Five years ago or more, ON 100% Whey was literally alone on top of the field. Nearly none of the other proteins mentioned on this page existed at that point, and definitely none that could mix the quality and taste.
However, over the past few years, the competition has caught up, and the flavoring from other companies has vastly improved. We find this product in an odd position – it's definitely the best seller… but it's slipping, because there's simply better-tasting, thicker-mixing stuff out now.
But when in doubt, if all else fails, you cannot go wrong with Optimum 100% Whey. End of story.